Presage Batch Management System
Presage Analytics simplifies quality and compliance for food and beverage professionals by replacing cumbersome paper logging with fast, accurate data collection using mobile devices and robust enterprise software for improving reporting and compliance.
With that in mind, we've added a new module to our system for Batch Management. Our goal was to build a user-friendly system to make the data entry easy for operators and still allow flexibility for the management have control over the manual operations and ability to pinpoint which ingredients went to which batches and ultimately to which finished products.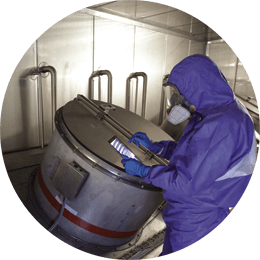 How The Batching System Works
In the recipe configuration page, users are able to link incoming ingredients, recipes, and end products together. Each step for batch creation is set up as well as acceptable threshold for each ingredient. There is also place to set special instructions which are easily visible to the operators. Once all data is entered, managers can pull up and filter data in many ways. They can see:
Which ingredients were used
The ingredient lot numbers
How much of the ingredient was used
What date and time the ingredient was used
Which operator added the ingredients or performed the tasks
Comments made my operators
Special instructions that came with the recipe
Any attachments made to the work order (images, files, etc)
Any tests done on the ingredient and/or batch
Avoid Recalls with Batching System
Undeclared allergens have consistently been a top trend for USDA and FDA recalls. "Allergens were the single largest cause of food recalls, composing 60% in the second quarter, up from 34% in the first quarter from FDA." (See foodqualitynews.com)
Major cause of these recalls was operator errors related to bringing the wrong ingredients and packaging materials to the production area. With the batching system, operators have a clear reference to which exact consumables to work with.
Avoid wasted ingredients and production time and costly production errors with the new Presage batching system.
Environmental Monitoring
Ensure your environment is sampled at truly random intervals for full coverage and to prevent unforeseen bacterial growth.