HACCP, FSMA, FDA, SQF — just a few of the many abbreviations that Food Safety and Quality professionals must be familiar with. These various entities have been established to increase quality, safety, and accountability in food production practices. Among a myriad of rules and regulations, each entity comes with its own set of requirements for recording, reviewing, inspecting, and verifying results within a facility.
A key requirement of FSMA, for example, is verification of preventive controls. Like HACCP, FSMA requires confirmation that monitoring of preventive controls has taken place, that the preventive controls were adequate to cover any hazards identified, and that any necessary corrective actions were taken. In fact, FSMA requires that verification of corrective actions be done within one week from the time the record was made to ensure appropriate decisions were made.
The Safe Quality Food Institute will increase accountability in your Food Safety Plan even more so with the 8th edition of the SQF code. This edition includes the new SQF Quality Code which companies can seek certification in, but only in addition to meeting all SQF Food Safety Code requirements first.
In terms of verification and validation, it's important to pay particular attention to Part B, section 2.5 of the SQF Quality Code, which outlines the requirements for adequate verification of your food quality system:
"2.5.1 Validation and Effectiveness

2.5.1.1 Validation activities shall include those necessary to authenticate critical quality limits, process controls, and other quality tests established to meet customer requirements.
2.5.1.2 Records of validation of quality criteria shall be maintained.

2.5.2 Verification Activities

2.5.2.1 The verification schedule shall include activities designed to ensure the effectiveness of process controls and quality tests.
2.5.2.2 The methods, responsibility and criteria for verifying the effectiveness of monitoring critical quality points and other process and quality controls shall be documented and implemented. The methods applied shall ensure that personnel with responsibility for verifying monitoring activities authorize each record.
2.5.2.3 Records of the verification of quality activities shall be maintained.

2.5.3 Corrective and Preventative Action

2.5.3.1 Corrective and preventative action methods shall include the identification of the root cause and resolution of non-compliance of critical quality limits and deviations from quality requirements.
2.5.3.2 Verification activities shall include a comparison of process control limits (+/- 3σ) with specification limits to ensure alignment and appropriate process control corrections.

2.5.4 Product Sampling, Inspection and Analysis

2.5.4.1 Processing parameters or in-process measurements shall be established, validated, and verified at a determined frequency to meet all customer requirements.
2.5.4.2 On-site laboratories and inspection stations shall be equipped and resourced to enable testing of in-process and finished products to meet customer expectations and meet quality objectives.
2.5.4.3 Statistical process control methods shall be used to effectively control and optimize production processes to improve process efficiency and product quality and reduced waste. Control charts shall be in use for control of key processes and have defined upper and lower (process) control limits (+/- 3σ).
2.5.4.4 A sensory evaluation program shall be in place to ensure alignment with agreed customer requirements. Sensory evaluation results shall be communicated with relevant staff and with customers where appropriate.
2.5.4.5 Records of all quality inspections and analyses, and statistical analyses, shall be maintained.

2.5.5 Internal Audits

2.5.5.1 Internal audit plans and methods shall include food quality plans, process controls, quality tests, and other activities implemented to meet finished product specifications and customer requirements.
2.5.5.2 Staff conducting the quality internal audits shall be trained and assessed in internal audit procedures and have knowledge and experience in the quality process and process control methods as they relate to the scope of certification."
Key provisions of the SQF Quality Code include the use of Statistical Process Control (SPC) to monitor and maximize results and efficiency of production processes. This is in addition to strict reviewing, recording, and verifying requirements for all monitoring activities. SQF not only requires reviewing the effectiveness of corrective actions taken, but the code is also particular about how these actions are documented and verified.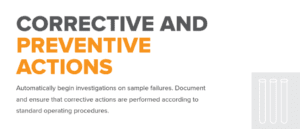 With Presage, users may be assigned to user groups with specific permissions and abilities within the software. Users may verify, close, and approve work orders based on supervisory permissions previously set. To verify a work order, simply check a box labeled "Document verified and approved by:" which automatically fill out the user login and current date and time. Furthermore, this information, as well as documentation of the actions taken, is recorded and easily accessible using the Sampling History screen.
Supervisors can also take advantage of user groups by assigning work orders to individual employees or worker groups and tracking their completion of assigned checks. You can quickly respond to any missed checks, out-of-spec samples, investigations, or nonconformities by using Presage's email and text alerts and scheduled reports.
Ultimately, you can feel confident that your documents are verified, standards are met, and data is securely stored, with records of all actions readily available through the Sampling History.
Implementation of SQF 8th Edition is nearby and we want to help you be prepared. If it's time to update your FSQA system, reach out for a demo of the software and let's see how we can maximize use of your quality data.