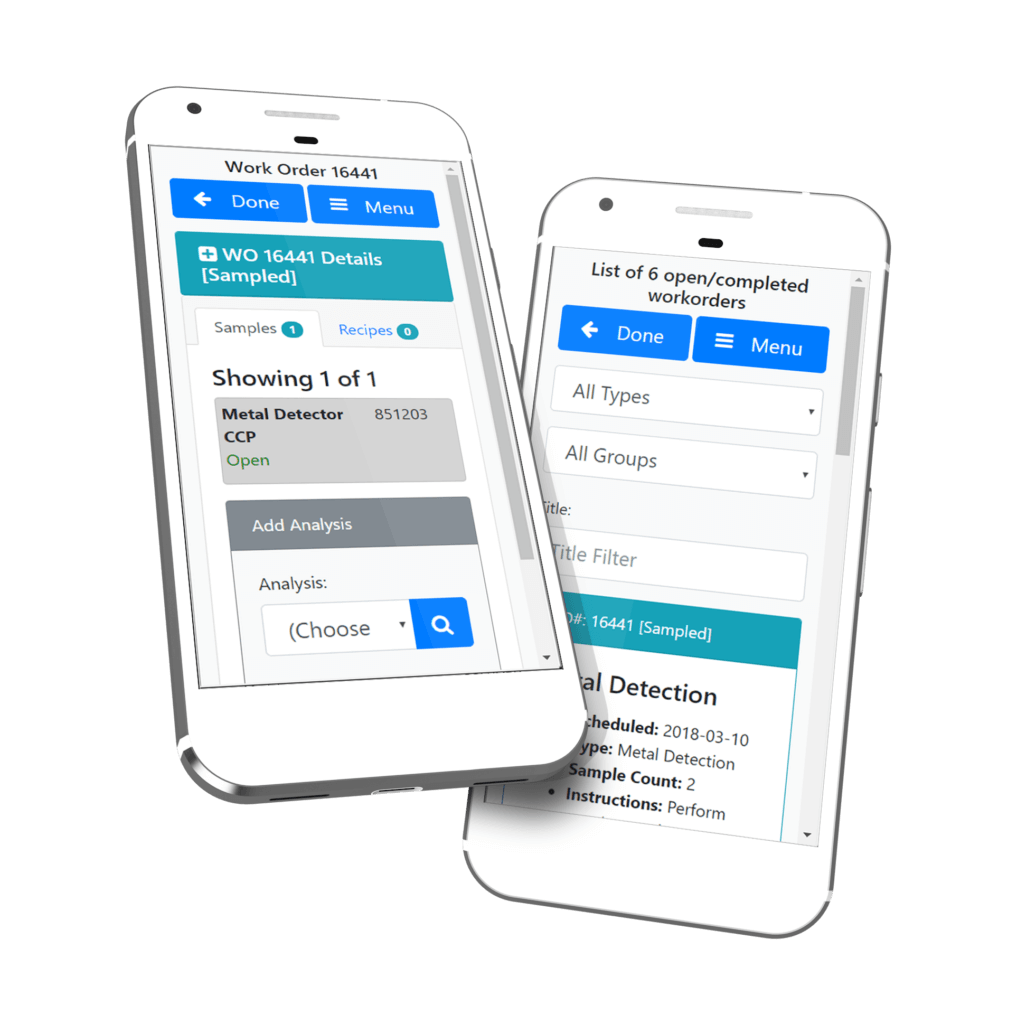 ---
Food Safety and Quality Software
---
---
---
Presage Analytics is food safety and quality software that simplifies quality and compliance. We help by replacing cumbersome paper logging with digital and online solutions.
---
---
Quality Management Software
Environmental Health & Safety Software
Food Safety Management Software
Pre

sage

Analytics Key Features
---
---
---
---
---
---
Centralized Configuration
---
---
---
---
---
---
---
---
Recipes & Batch Management
---
---
---
---
---
---
---
---
---
---
---
---
Recipes & Batch Management
---
---
Centralized Configuration
---
---
---
---
---
---
---
---
---
We work in a fast-paced environment that requires immediate feedback on our product quality testing. Presage Analytics is a tool that has quickly given us new insights into our food safety operations, and we look forward to expanding this collaboration.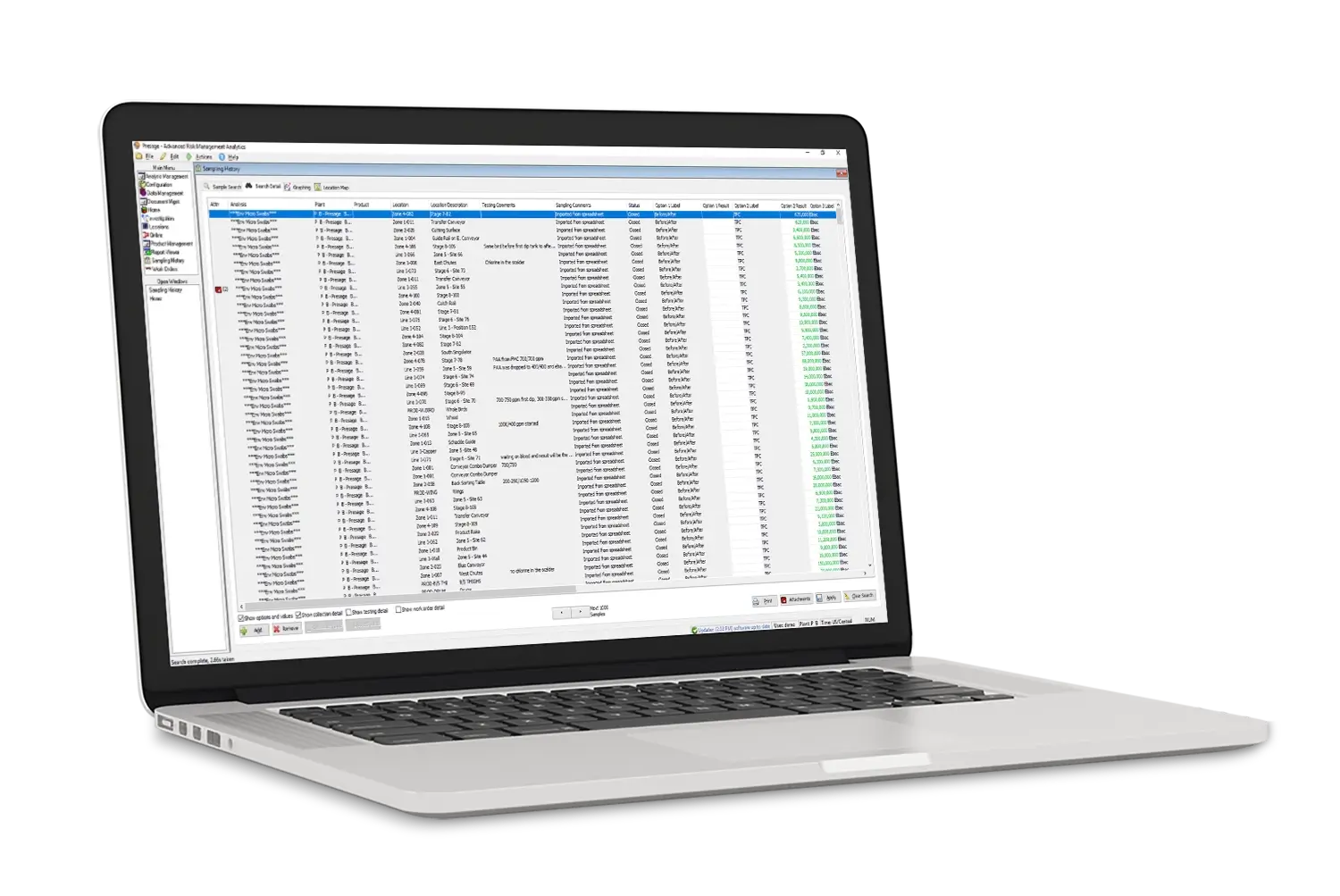 ---
---
Your Data When You Need It
---
With the right food safety and quality software, finding the data you need is easy. Presage Analytics made it simple to search your data across all plants, save those searches, and share them with coworkers.
---
Data Search
Customizable data search enables you to find records using broad categorizations to get an overview of what is happening at your plant. Or you can dig in to granular search to track down specific problems with a given area of the plant, product, or process.
Saved Searches
With Presage's Saved Search feature, you can retrieve an often-used search with two clicks. Perform data entry for all incubating samples, regardless of when or where they were originally collected, pull up the quarterly compliance records, or pre-stage data results for an audit. With our Saved Search sharing feature, the labor-saving staging done by one person can be shared within a plant, or across a whole organization.
Mapping
Using Presage to map environmental testing, you can trace sample results across your plant. With time-based animation, Presage will show the journey a pathogen takes across your plant, over the course of hours, days, or weeks. Use this data to find and eliminate gaps in your sanitation procedures.
Graphing
A picture is worth a thousand words, and a graph can help you see trends more easily than skimming a target of numbers. Even if your results aren't out of spec yet, with Graphing you can see trends that may spell trouble in the future, and correct issues before they cause big problems!
Exporting
While Presage offers many powerful data analysis tools, you may need to share results with people who are not Presage users, such as an executive or auditor. Any data search can be exported to Excel (or your other favorite spreadsheet) with a simple click.
Data Entry
Presage offers multiple, purpose-focused data entry interfaces. Use our simplified mobile data entry to complete tasks quickly on the plant floor, or use our desktop-based data entry to record results across multiple samples in the lab.
---
---
Work Effectively and Efficiently
---
Presage Analytics allows you to appropriately allocate resources and ensure tasks are being completed on time and correctly with our Work Order management system.
---
Data Entry
Presage has multiple data entry interfaces, built to efficiently process the task at hand. Whether you are a production operator who needs to complete an hourly check in a timely manner, a lab tech who needs to record results for the 50 samples that just came out of the incubator, or a manager who needs to sign off on last week's data, with Presage you can complete the task quickly and efficiently.
Scheduled Templates
The backbone of every Quality program is consistency. With Presage, these regular tasks can be set up and scheduled ahead of time to automatically prompt the right people to take action on a regular basis. Ensure regular tasks get completed, without becoming a managerial time-sink.
Randomized Sampling
Presage helps you ensure your entire facility is getting swabbed in a given period, but not predictably! Uncover problems you may miss by randomizing your environmental samples within your overall Environmental sampling schedule.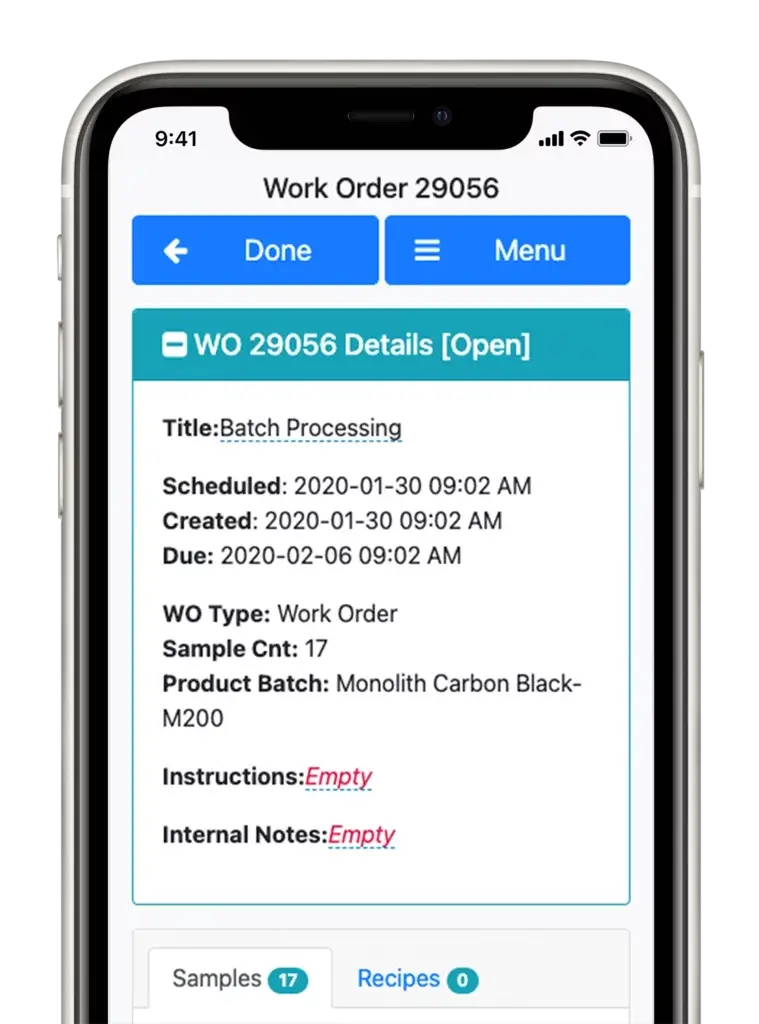 ---
---
---
Automatic Investigations allow you to not only respond to problems as they arise, but also address the underlying causes to prevent issues from recurring in the future.
---
Solve issues as soon as they arise.
Report, centralize and track investigations.
Add comments, photos and documents.
Get the right information at the right time.
---
---
Learn even more about how Presage Analytics can benefit you and your plant.
---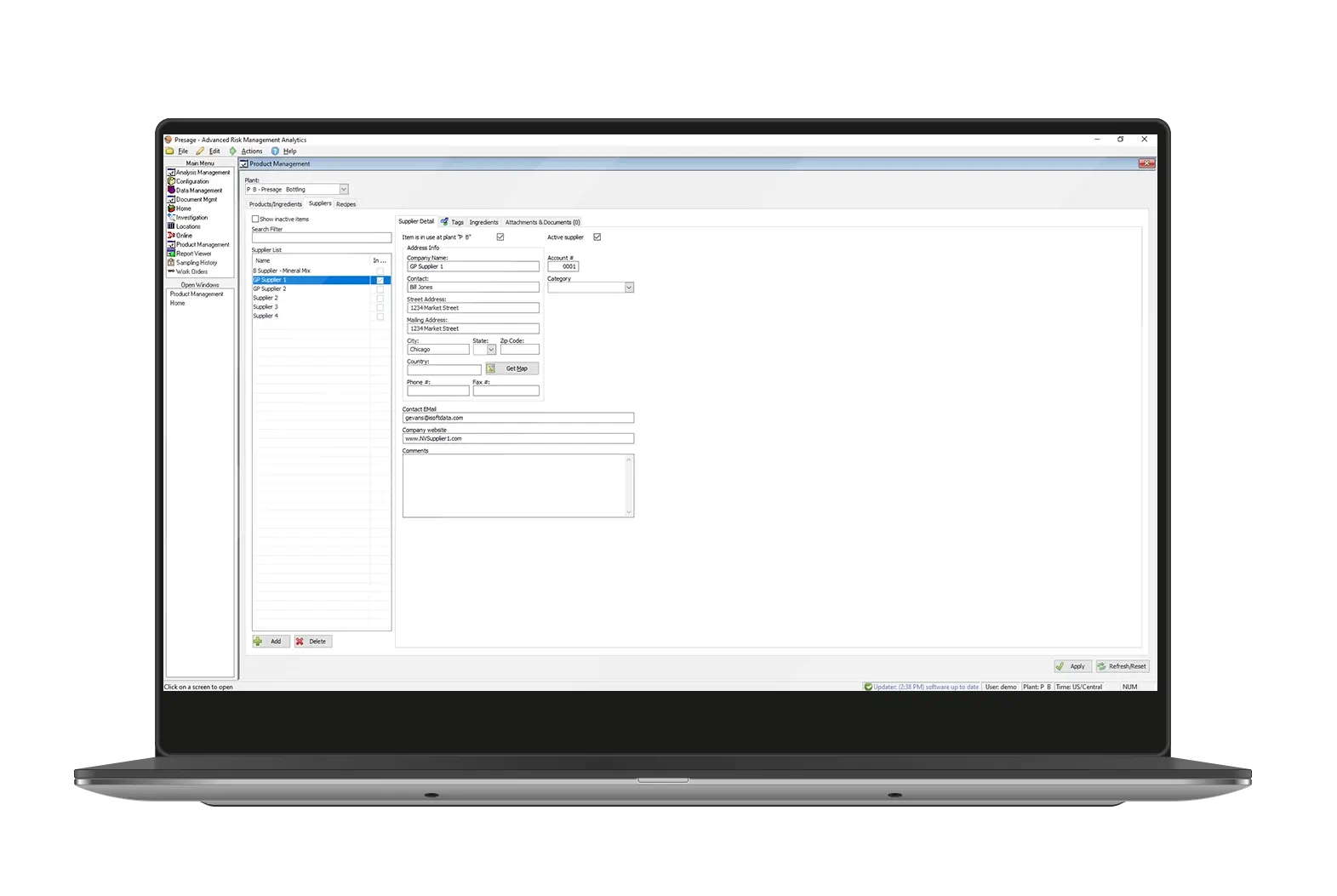 ---
---
Keep Up With Your Suppliers
---
Presage's Supplier Management filter helps you digitize information and documents and automate workflows and processes resulting in improved collaboration with your suppliers. Presage Analytics offers a centralized way to store all relevant Supplier information, such as contact information, documents, raw materials or packaging specifications, etc. Program alerts to go to an internal Supplier Coordinator, or a contact at your supplier, to notify when documents are expiring, and ensure you received updated documents when you need them.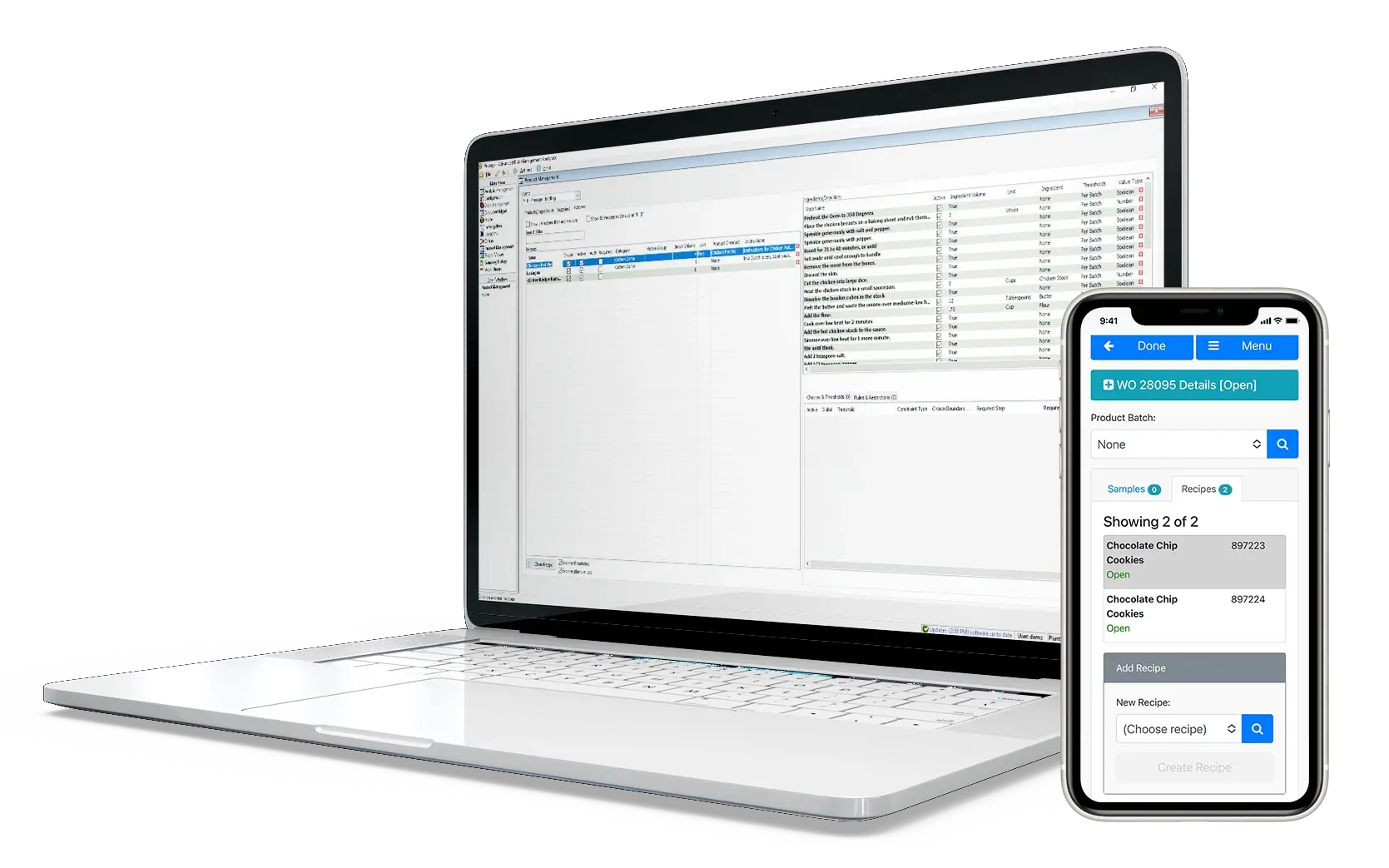 Recipe & Batch Management
---
---
Recipes & Batches Made Easy
---
During product development, the formulation step is essential and it determines a product's success or failure. Presage Analytics makes managing your recipes and batches simple.
---
Develop and Manage Recipes
Save commonly used recipes for easy access. Edit or remove any existing recipes to keep your recipe list up-to-date.
Calculate Ingredient Amounts
Easily calculate ingredient amounts for each recipe. Ensuring consistency in each batch.
Scale Batches
Scale batches for smaller or larger orders. Ingredients are automatically calculated for each batch size.
Track Ingredients Used
Track lot numbers and expiration dates for ingredients used in a batch to facilitate traceability.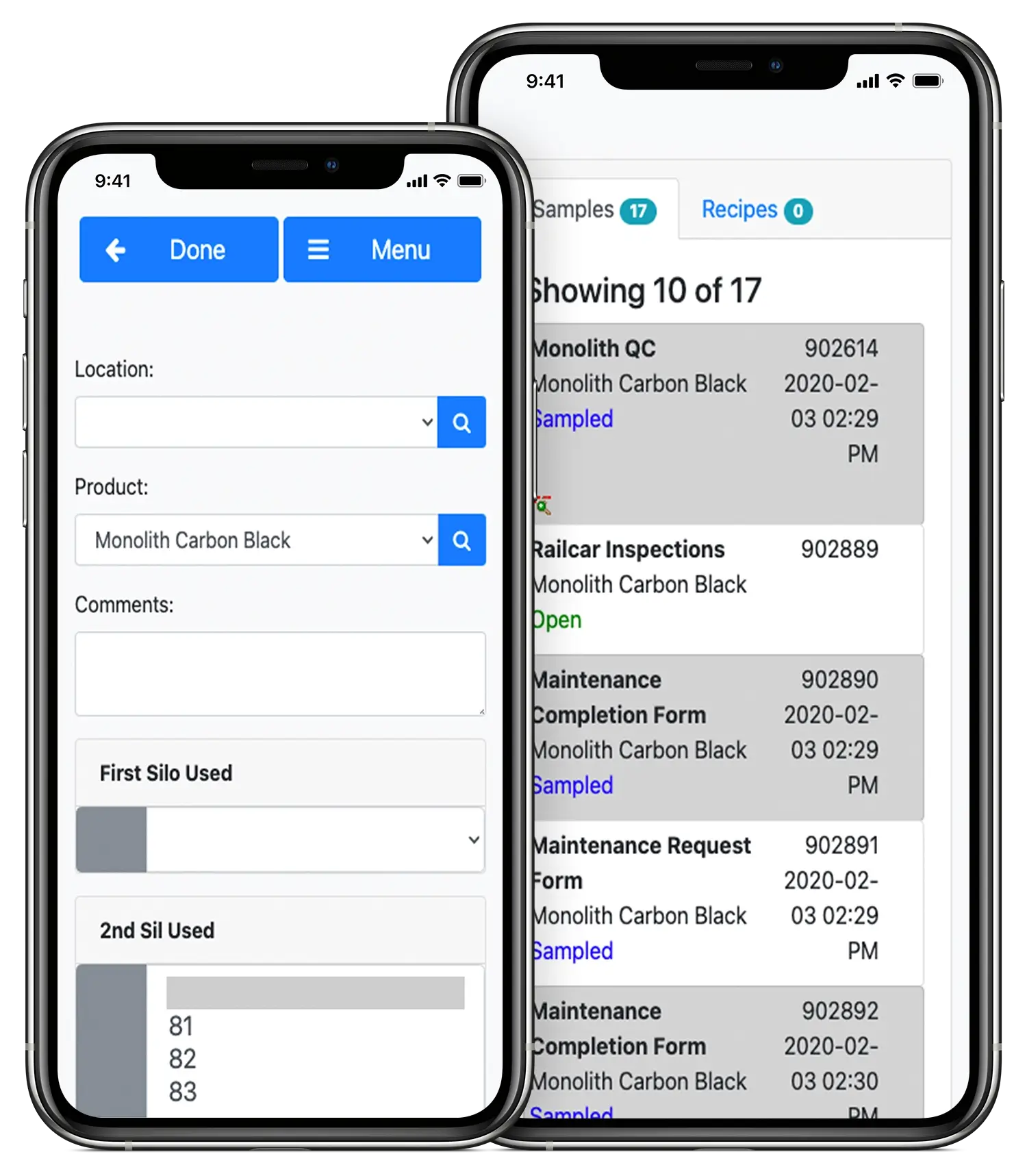 ---
---
---
Safety and quality are heavily regulated. You not only need to follow current regulations but you also have to anticipate new ones. Presage Analytics' food safety and quality software is designed to meet those standards, whatever they are.
---
Overcome Regulatory Challenges
---
Simplified Product Formulation
---
Enforce the Safety of Products
---
Comply with Country-Specific Regulations
---
---
Ensure Quality, Every Time
---
When a non-conformity arises, it is important to act fast. Using Presage, you can easily track and ensure the quality of any products at all stages of their life cycles, from suppliers to disposal.
---
Report, Qualify, Manage and Close Non-Conformities
Consolidate All Necessary Information
Analyze Root Causes and Plan Corrective Actions
Track and Ensure Quality of Any Products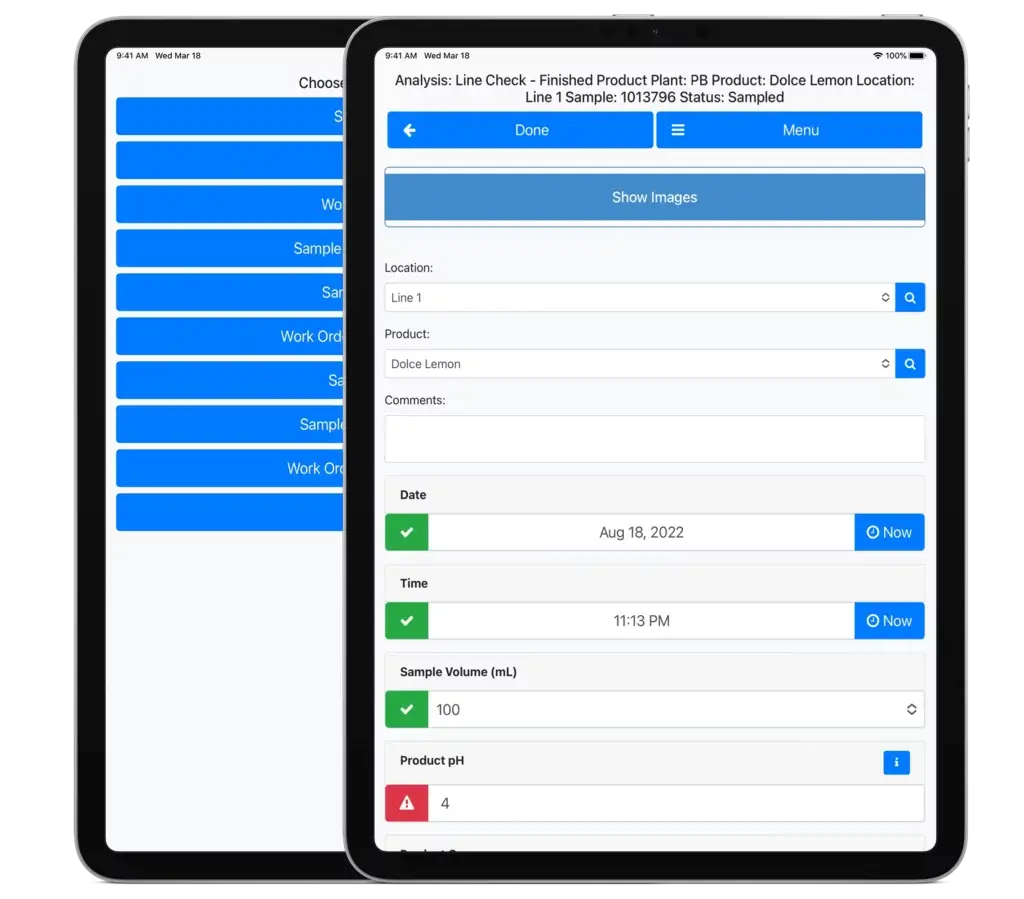 ---
---
Never Lose Historical Information
---
Traceability helps facilities like yours manage increasingly complex products over time and turnover. Presage Analytics offers practical and realistic tracking to easily identify actions taken in relation to a user, product, ingredient, or process.
---
Version Control
With our version control, easily go back to a previous version of a document and never lose information in the shuffle.
Document History
Document history is stored, allowing you to see past edits to documents, including what was edited and the author.
Barcode Scanning
Easily print and scan barcodes to input the digits on the barcode, without having any transcription errors, and correctly tying each test to its work order.
---
---
---
Say goodbye to messy and cumbersome graphing solutions. Presage Analytics provides customizable reports, allowing you to easily view trends in your data. Save your reports as a PDF, print them or set up a schedule for them to be sent via email. We've simplified the process so you can properly prepare for any occasion.
Are you ready to see real improvements?
Schedule a demo today and let us show you how Presage Analytics can work for your company.
---
---
Are you ready to see
real improvements?
Schedule a free demo today and let us show you how Presage Analytics can work for your company.
---