---
QA Software With The Features You Need
---
---
---
Presage Analytics food QA Software offers the features you need on almost any device. With a robust software architecture, Presage works for all food and beverage plants, big or small while allowing you to keep up with your daily tasks, ensuring not a single step is missed.
---
Presage Analytics Key Features
---
Custom Dashboards & Analytics
---
Preventive Maintenance Management
---
---
---
---
---
---
---
---
---
---
---
Centralized Configuration
---
---
Real-Time Alert Notifications
---
---
---
---
---
---
Recipes & Batch Management
---
Environmental Monitoring & Mapping
---
---
---
---
---
---
---
---
---
---
---
Recipes & Batch Management
---
---
Centralized Configuration
---
---
---
---
---
---
---
---
---
We work in a fast-paced environment that requires immediate feedback on our product quality testing. Presage Analytics is a tool that has quickly given us new insights into our food safety operations, and we look forward to expanding this collaboration.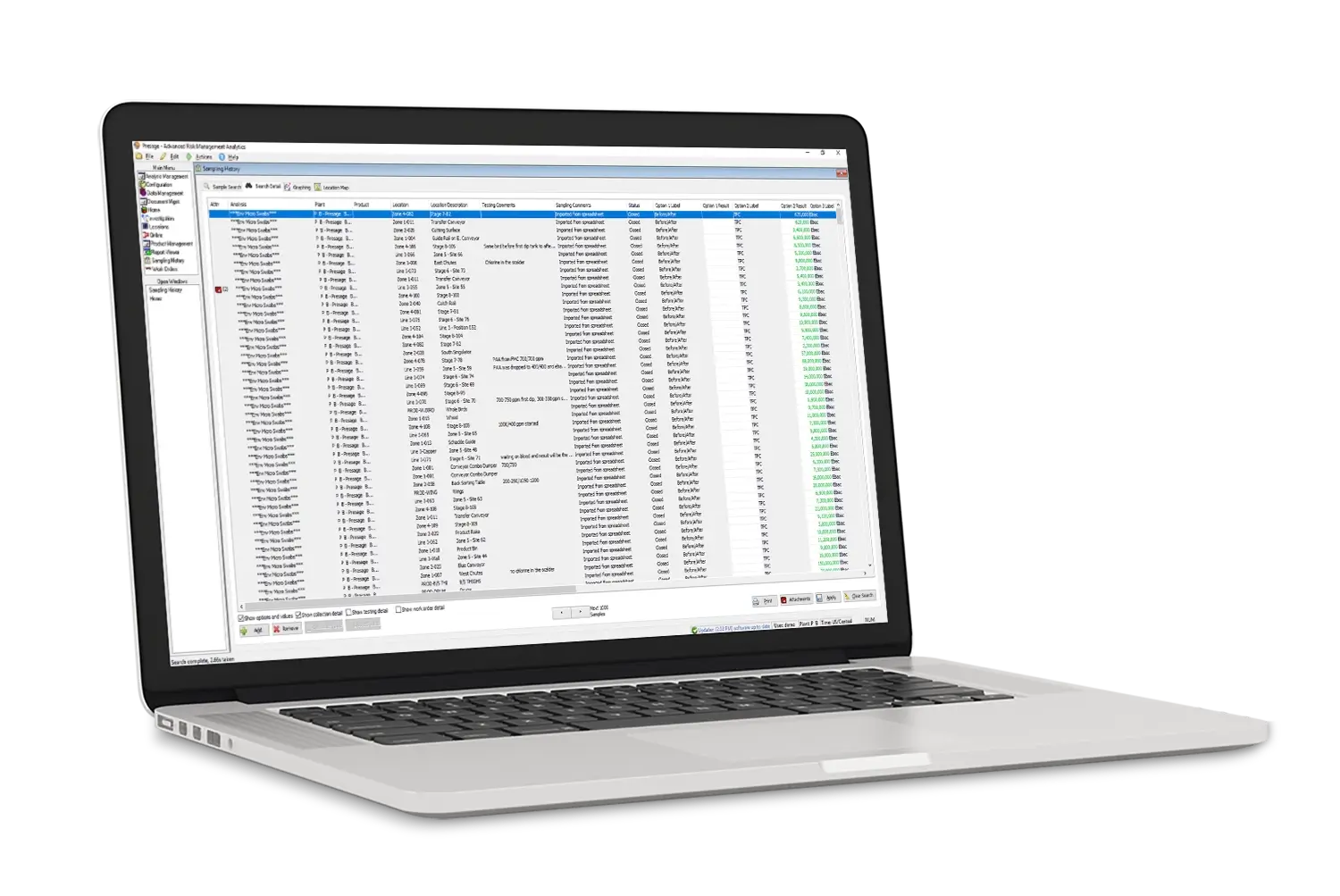 Your Data When You Need It
---
With the right food safety and quality software, finding the data you need is easy. Presage Analytics made it simple to search your data across all plants, save those searches, and share them with coworkers.
Data Search
Customizable data search enables you to find records using broad categorizations to get an overview of what is happening at your plant. Use our Saved Search feature to retrieve an often-used search with two clicks.
Mapping
Using Presage to map environmental testing, you can trace sample results across your plant. With time-based animation, Presage will show the journey a pathogen takes across your plant, over the course of hours, days or weeks.
Graphing
The graphs in Presage can help you see trends more easily than skimming a target of numbers. Even if your results aren't out of spec yet, with Graphing you can see trends that may spell trouble in the future, and correct issues before they cause big problems!
Exporting
While Presage offers many powerful data analysis tools, you may need to share results with people who are not Presage users, such as an executive or auditor. Any data search can be exported to Excel (or your other favorite spreadsheet) with a simple click.
Work Effectively and Efficiently
---
Presage Analytics Work Order management system is the perfect solution for organizations looking to ensure tasks are being completed on time and correctly. With this system, you can allocate resources appropriately and ensure your business is moving in a positive direction.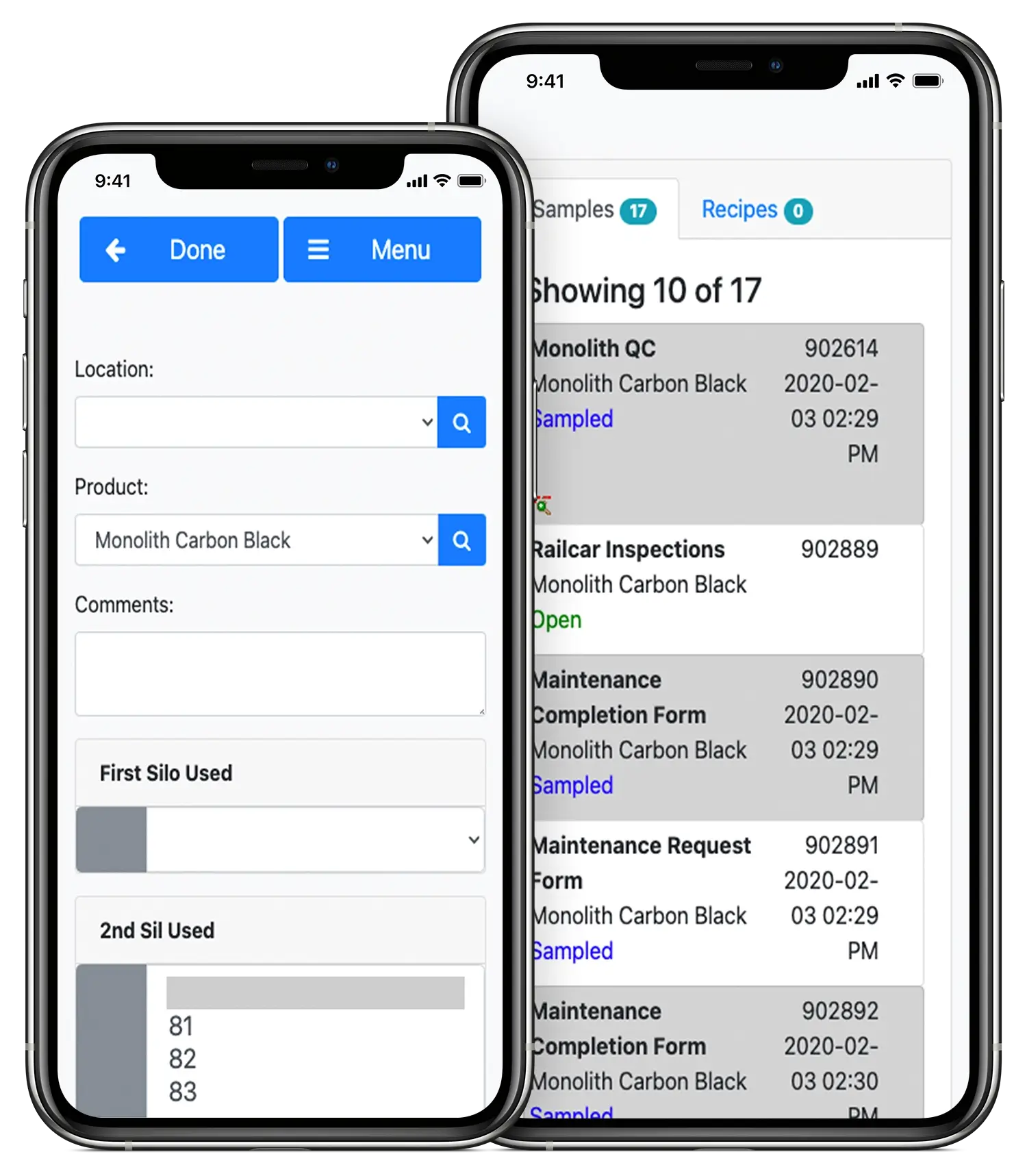 Data Entry
Presage has multiple data entry interfaces, built to efficiently process the task at hand. Whether you are a production operator who needs to complete an hourly check in a timely manner, a lab tech who needs to record results for the 50 samples that just came out of the incubator, or a manager who needs to sign off on last week's data, with Presage you can complete the task quickly and efficiently.
Randomized Sampling
Presage helps you ensure your entire facility is getting swabbed in a given period, but not predictably! Uncover problems you may miss by randomizing your environmental samples within your overall Environmental sampling schedule.
Schedule Templates
The backbone of every Quality program is consistency. With Presage, these regular tasks can be set up and scheduled ahead of time to automatically prompt the right people to take action on a regular basis. Ensure regular tasks get completed, without becoming a managerial time-sink.
---
Say goodbye to messy and cumbersome graphing solutions. Presage Analytics provides customizable reports, allowing you to easily view trends in your data. Save your reports as a PDF, print them or set up a schedule for them to be sent via email. We've simplified the process so you can properly prepare for any occasion.
Are you ready to see real improvements?
---
Schedule a demo today and let us show you how Presage Analytics can work for your company.
---
---
Are you ready to see real improvements?
---
Schedule a demo today and let us show you how Presage Analytics can work for your company.
---