---
Presage Analytics Customers Are Some Of The Best In The Industry
---
---
---
We aren't afraid to brag about the companies we work with. Presage Analytics is designed to be configurable to all kinds of standards and processes. That's why Presage Analytics customers range from water bottling to meat packing to dried figs! Whatever your industry, whether you have one plant or 50, we work with you!
---
BlueTriton
BlueTriton Brands offers an unrivaled portfolio of water brands for healthy hydration, including Poland Spring® Brand 100% Natural Spring Water and Pure Life®.
California Figs
California Figs celebrates the quality, nutrients, and benefits of California grown figs in order to create a sustainable future for the industry's growers, processors, marketers and fig lovers worldwide.
Caviness Beef Packers
Caviness Beef Packers, LTD is a progressive beef packer and further processor whose products are marketed through a variety of foodservice and retail channels.
Chesterman Co.
While proudly serving Coca-Cola since 1904, Chesterman Company is an independently owned and operated Coca-Cola Bottling Company based out of Sioux City, Iowa.
FireFly Farms
FireFly Farms' cheeses are produced using sustainably-produced, locally‐sourced fresh goat's and cow's milk and time‐honored, traditional methods of cheese making.
Greater Omaha Packing
Greater Omaha Packing processes 2400 head of the nation's finest, high-quality cattle daily, satisfying customers in retail, food service and manufacturing.
Grizzlies Brand
Located in Eugene, Oregon, Grizzlies has been making raw grain cereal, granolas, and trail mixes since 1981. They are committed to producing unique products with a focus on real honest food.
Ice River Springs
Ice River Springs is a private label bottled water producer for retailers and food service operators and manufacturers of the Ice River Green brand of bottled water.
Mt. Olive
Mt. Olive, which celebrated its 90th anniversary in 2016, is the #1 pickle brand in the U.S. Located in Mount Olive, North Carolina, Mt. Olive has been seling pickles since 1926.
Niagara Bottling Co.
Niagara Bottling, LLC is a family owned manufacturer of bottled water and soft drinks based in Diamond Bar, California. They produce private label bottled water for a number of companies including Walmart, Safeway Inc., Costco, Sam's Club, and BJ's.
Polar Beverages
Polar Beverages is a soft drink company based in Worcester, Massachusetts. It is a manufacturer and distributor of sparkling fruit beverages, seltzer, ginger ale, drink mixers, and spring water to customers in the United States. It is the largest independent soft-drink bottler in the United States.
Premium Waters
Premium Waters, Inc. is an established, multifaceted bottled water organization that offers convenient home and office delivery services, quality private and custom label bottled water, and accompanying products such as water coolers and filtration systems.
Primo Water
Purified bulk water delivered or at a self-service station near you.
Sheetz, Inc.
Sheetz's mission is to provide fast, friendly service and quality products in clean and convenient locations. They work hard to make sure they deliver on their Mission promise every day.
Tattooed Chef
Located in California, Tattooed Chef provides plant-based, ready-to-eat dishes with a focus on foods that are better for the planet.
University of Nebraska - Lincoln
The University of Nebraska–Lincoln is the flagship public research university in Nebraska, and is a member of the Big Ten Conference. Home of the Huskers.
We Have North America Covered
Presage currently has customers all over the United States, Canada and Mexico. But we aren't stopping there. We are working on expanding our reach to support companies and plants on the other side of the ocean. Check out the map below to see where our customers are located!
---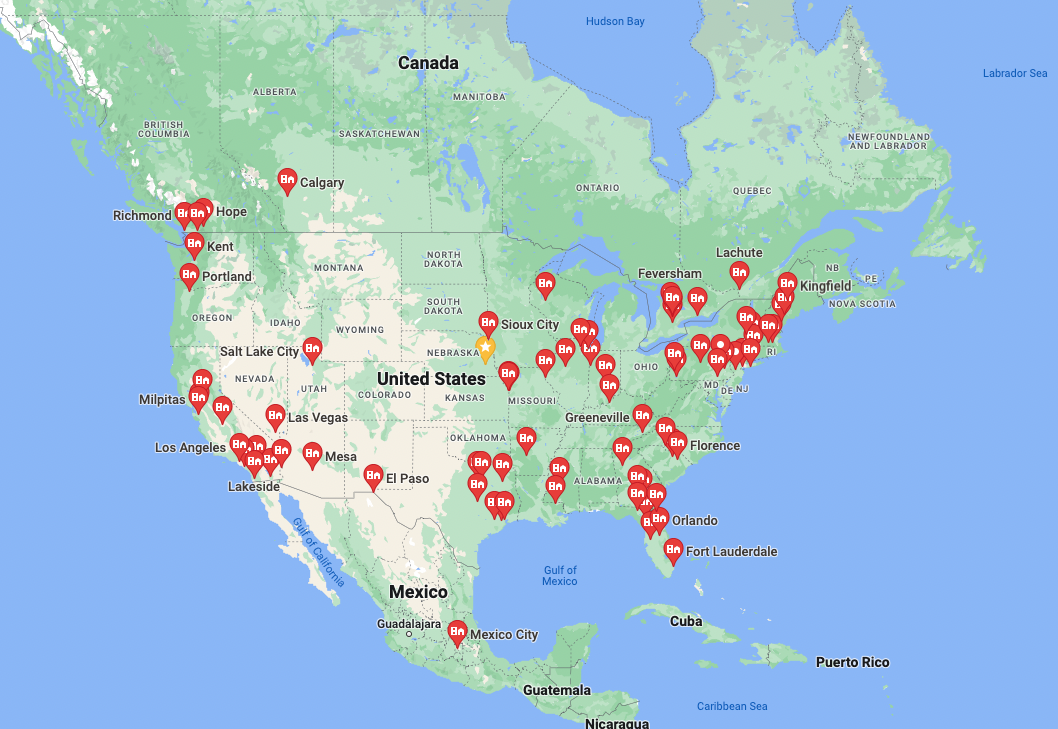 ---
Check out the features that are keeping our customers safe and their plants successful.
---