At Presage, we aim to help FSQA professionals with their quality processes and compliance. We've created a solution that eliminates the hassle of paper trails and increases the efficiency of data entry and storage.
How do we achieve this? By replacing cumbersome paper logging with fast, accurate data-collection. Data is recorded at the source using mobile devices and sent to a robust enterprise software for improving reporting, management, and compliance.
Since food and beverage production often runs on checks that are done on a daily or even hourly basis, Presage has unique work order system that allows managers and leads to create, edit, duplicate, and assign tasks to the technicians that are regularly out on the floor. Automating recurring tasks allows for technicians to focus on the accuracy of their data entry, while management is allotted more time to review this data and maintain compliance.
Edit Work Orders
The Work Orders configuration has three main tabs: Edit Work Order, Sample Schedule, and Automatic WOs. The Edit Work Order screen comes with a search function where you can locate any work order by number and all analyses and results tied to that WO. Work orders can be configured by types, such as Production, Environmental, or Sanitation, and assigned to a specific user or group.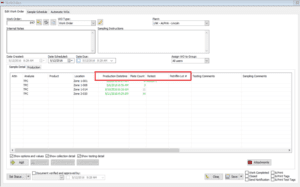 Additional features include the ability to:
Set WO due dates and alerts.

Add attachments to samples.

Inspect the reasoning behind a result acceptability.

Give users supervisory privileges to verify and approve WOs.

Print reports or tags related to a WO.
Sample Schedule
This screen lists all the analysis tests (checks, samples, etc.) which need to be performed. You may search for analyses scheduled during a specific date range, or assign random analyses to a work order by selecting the "Choose Random" function.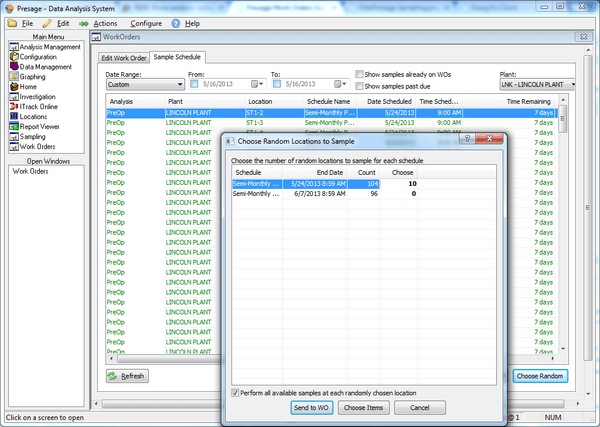 The Sample Schedule is color-coded by the following default colors, which can be customized:
Blue

samples are due within 24 hours.

Green

samples have more than 24 hours to be completed.

Grey

sam

ples are past due.
Automatic WOs
You can use the Automatic WOs tab to schedule recurring work orders, make on-demand copies of existing work orders, and manage your Favorite work orders.
The following options can be set when creating each scheduled work order:
Schedule Type: Â Determines how often the work order copy will generate (Daily, Weekly, Monthly, Quarterly, Yearly.)

Day Offset: Determines how many days into the selected time period must pass before the copy is made.

Month Offset

Day of Week

Time of Day

Next Occurrence

Clone Values

Clone Most Recent

Description

Date Created
Additionally, you may always add and delete lines of a scheduled WO, and re-run the selected schedule, which will attempt to recreate any work orders that should have been created in the last hour and were not.
For a more detailed breakdown of the Work Orders feature, check out our video tutorials which will walk you through configuring and creating new work orders.
Think you could use this product feature? Request a demo and see how your processes would work within Presage Analytics.